Let's get together at Osaka-jo Hall on December 3!
The Concert will be held on Dec.3
Venue: Osaka-jo Hall, Japan
Please Post your Singing Video!
Application period is
2023.7.14 (Fri) - 11.20 (Mon)

Important Points to Note:
Be sure to adjust your smartphone vertically while shooting.
Take a selfie from the chest up while singing.
To follow social distancing protocol, you can video yourself singing alone.
Please be mindful to show only yourself alone in the video. Objects that show any person's identity or likeness should not be visible.
Listen to Beethoven's 9th model video on headphones and record your singing voice only, and make sure it's only a video of your singing voice that has been recorded.
No excessive costumes are permitted such as cosplay or mask costumes.
There is no limit on the number of videos you may enter even if you sing the same part and same block.
If you are or the video shot of the person is under the age of 20, please obtain the consent of a parent or guardian before entering it.
We will decide at our sole discretion whether or not to select your video from among all the videos submitted by all the candidates including you. We will also decide at our sole discretion, among other things, to determine when and how it is to be used and for how long. We will not reply to any inquiries regarding the criteria for our judgment.
Models & Posting
Choose your part.
---

Please Post your Singing Video!
With your friends, with your family,
please sing together and join.

Hear the 9th through the speakers
and sing together with group members.
Please record the video
with your smart phone and post the video.
How to Record
Play music from the speakers for the "Model Video".
Please make the sound of the "Model Video" as low as possible,
If you are singing together with people who have different parts, select the "All Parts" video.
and record the video at the same time as the "Model Video" starts playing.
Check the recorded video and submit it via the submission form.
Model Videos & Posting for Groups
*Turn your smartphone sideways and film without using ear phones


Choose your part.
Attention(Please read carefully.)
This is a project in which we will compile your Video Postings and create a special video for "SUNTORY Presents Beethoven's 9th with a Cast of 10,000", and distribute it live on our official YouTube channel on Sunday, December 3. The harmony will be mixed with the live performance and chorus singing at Osaka-jo Hall.
---
General Director & Conductor
by Yutaka Sado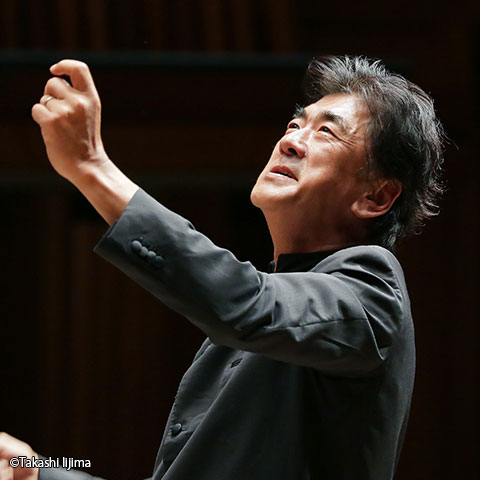 About "SUNTORY Presents Beethoven's 9th with a Cast of 10,000"
Every year in early December, 10,000 chorus members gather at the Osaka-Jo Hall to sing Beethoven's "Symphony No. 9, Ode to Joy". It is one of the largest concerts of its kind and has continued for 38 years since 1983 without interruption.
The General Director and Conductor Yutaka Sado is a world-renowned conductor who has served as Music Director of the Tonkünstler Orchestra, Austria's oldest orchestra with over 110 years of history, since 2015.

In addition to Japanese choirs, international participants from all over the world including Germany, Austria, USA, Korea and others have been taking part in this annual concert over the years.

Suntory Holdings Limited is one of the global leading beverage companies and has been the official main sponsor of the concert since its beginning in 1983.
Best stage ever!
Sing Beethoven's 9th
under the conducting
of Yutaka Sado!
Adults

¥11,000
U25

¥3,300
*Tax included
*U25 = 25 or younger (born on or after April 2, 1998) to 1st―grade elementary school students
Thank you for the many entries.
Applications are now closed.
Includes 3 months of Lessons,
Rehearsals with Yutaka Sado, and a Concert.
*Application and Lessons are in Japanese.
*Only credit cards contracted in Japan are accepted for payment.
Prevention to COVID-19
-In order to prevent infection to those at risk of serious illness, all choir participants are requested to wear masks (non-woven for lessons at halls and clear masks for general rehearsals and performances) and neck fans when singing in the chorus. Neck fans must be of the shape specified by the administrative
office.
*Masks and neck fans must be purchased by the choir participants themselves. A limited number of neck fans will also be available for sale at the office and will be provided to U25 participants. For more information about neck fans, click HERE.
-Please take your temperature at home in the morning. If you have a fever that is higher than normal (37.5°C or 1°C above normal), or if you have any symptoms, please refrain from taking lessons at halls or attending the performance.
Get in touch
We are here to help you!
If you have any questions you can contact us
at sing-daiku02@mbs.co.jp